PCE has a staff of over 300 employees serving three primary geographic areas but routinely travel throughout the United States and around the world providing repair and troubleshooting services.

Propulsion Controls Engineering has experienced technicians and skilled tradesmen who work in the Navy, commercial and private yacht repair industry as well as transportation, construction and utilities/infrastructure.
Propulsion Controls Engineering was established in San Diego, California on August 27, 1974 by John P. (Jack) Reilly, Morley J. (Joe) Clapp, and Jim Humphreys, three former civilian employees of NAVSEACENPAC, who realized an increasing demand within the Navy for their technical expertise. Since then, we have expanded throughout the United States, opening offices in Bremerton, WA, Everett, WA and Oahu, HI. Over time PCE continued to grow both in size and capability, while adhering to the basic objectives of the founders – providing the highest quality of service in a timely manner. PCE specializes in ship repair, conversion and modernization with is principal customer being the United States Navy. Other customers include Military Sealift Command, Northrop-Grumman Ship Systems, the U.S. Coast Guard, local municipalities, school districts and many other commercial Industries.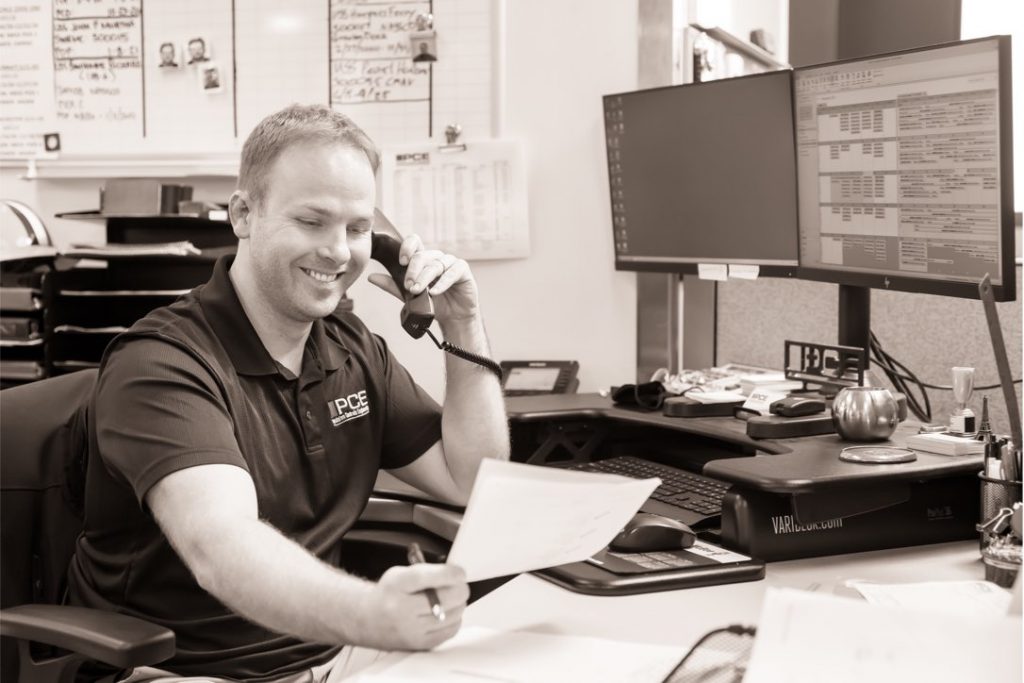 Customer Satisfaction and Quality Guarantee
Propulsion Controls Engineering accepts responsibility for the complete satisfaction of its customers. We exercise this responsibility through the adequate training of our employees, adherence to proven procedures, total commitment to meeting and exceeding customer requirements, and maintaining a company culture that fosters continuous improvement. PCE's Quality Management System (QMS) has been approved at the highest level through multiple Regional Maintenance Centers (RMC's). Our objective is to deliver defect free products/services on time, every time.
Quality Assurance Alliances
Electric Apparatus Service Association (EASA)

San Diego Ship Repair Association
ISO 9001:2015 Compliant
Numerous Naval Sea Systems Command (NAVSEA) and American Bureau of Shipping (ABS) Welding Certifications
Sealed Insulation Systems (SIS) Motor Certified
NAVSEA Basic Paint Inspector (NBPI) Certified
Lokring Installer Certified
Basic Belzona applications Qualified
Propulsion Controls Engineering (PCE) is committed to providing a safe and healthy work environment. Injuries and Illnesses will be minimized by protecting workers through administrative, engineering, and personal protective equipment (PPE). Worksite hazards are minimized by the use of Job Hazard Analysis (JHA), identifying potential hazards prior to the start of any work. Continuous employee training ensures team members are trained to exceed the industry standards.
PCE is dedicated to continuous improvement, meeting or exceeding all state and federal regulations and legislation. We strive to prevent occupational injuries and illnesses for employees and to protect our subcontractors, customers, visitors and neighbors.
 NIST 800-171 / CMMC Compliant
DFARS Compliant
OSHA Maritime Certified Instructors
All employees are trained to OSHA Maritime standards
Propulsion Controls Engineering takes pride in the quality and experience of its staff. We are constantly looking for new skilled workers to stay ahead of the pack and welcome resumes submitted electronically.